Builder Editor
Designs for Builder's editor perspective, with a particular emphasis on how to navigate between different parts of the project.
Participants
ChristianHergert, AllanDay, JakubSteiner
Goals
Devote as much of the screen to documents as possible - don't let chrome distract from editing
Allow quickly switching back and forth between a small number of documents
Don't make the user do all the work.

This is particularly important when it comes to going back to a previous document - you often might not be fully aware of the name of the document or exactly when you used it last. You need to be presented with a list of options.

It should be possible to explore a project, in order to see what files it contains and view the overall structure. (Important when contributing to an existing project for the first time.)
High efficiency for pointer and keyboard interaction:

Where possible most navigation should be possible purely with the keyboard
Efficient pointer interaction - fewer clicks, low travel distance and minimal direction changes for common actions

Compatibility with a range of display setups, including portrait displays and multi-monitor
Support viewing multiple documents at once (one or two being the primary case)
Relevant Art
Qt Creator
Sidebar is configurable - can include vertical panels for a filesystem treee, open documents, bookmarks, outline, etc

Documents can be opened from the sidebar, search, File > Recent Files or the file open dialog.

Splits are manually added/removed:

button at the right of the document header is an "add split" menu - allows splitting the focused document vertically or horizontally.

When the editor area is split, each split includes a button that removes the split.

Document header contains a drop down that lists open documents.
X button next to the document name closes the document.
Line/column shown in header.
Unclear where you'd set document preferences.
XCode
Back and forward buttons allow navigating through previously opened documents.
Path bar allows navigating to adjacent locations at the same depth.
Documents can be opened using the sidebar or through search.
Tabs are available as an off by default option.

There's a navigator panel that allows navigating by file, symbol, issue, test, breakpoint, debug...

You can view files side-by-side by right clicking on the file name and selecting "Open in Separate Editor".

Open Quickly is a search driven overlay that can be triggered with a keyboard shortcut.

No way to display the current column number.
Sublime Text 3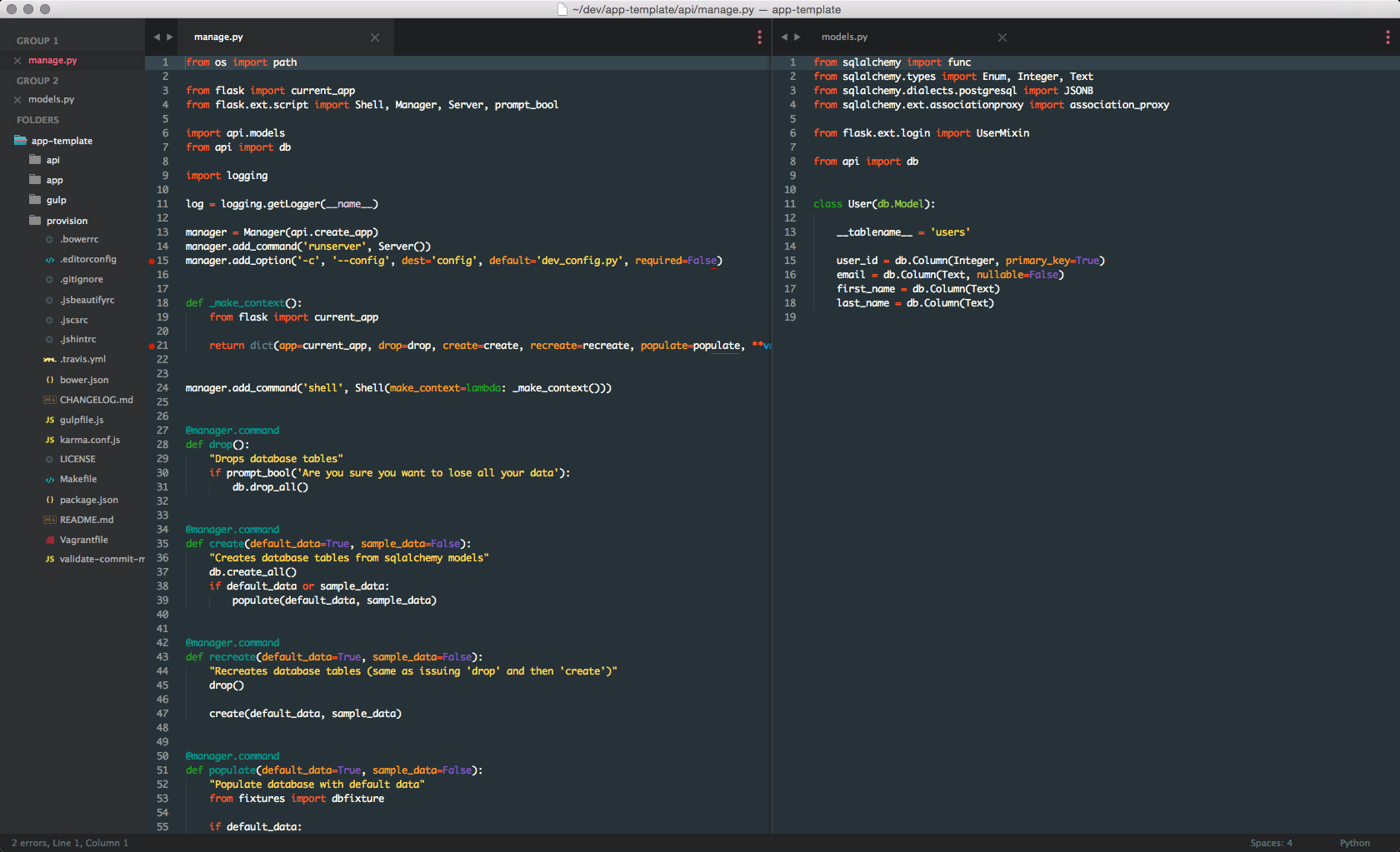 Tab-centric.

Back/forward buttons allow visible tabs to be scrolled visible tabs (they bunch up, like an accordion).
Down arrow on the right shows a menu listing all open tabs in the column.

Sidebar has different sections:

Open files (shown according to group, if open documents are organized into them).
Project tree.

Documents can be opened using the sidebar, search or file open dialog.
Columns allow multiple files to be viewed simultaneously. These work two ways:

You can manually select a layout from the view menu. This allows up to four columns or three rows (each row has its own tab strip) or a 4×4 grid. Other layouts (such as two columns, one split vertically) aren't supported by default, although they do seem to be possible with plugins.
Files can be organised into groups.

Groups are created and added to by moving the current focused file to them (View > Groups > Move File to New Group).

Each group is displayed as a column or row.
Groups can be switched between using the menu item or keyboard shortcuts (Ctrl+1, Ctrl+2, etc).
Files can be closed as a group.
Changing the layout rearranges the display of the group (two groups can be displayed as two rows or two columns, for example).

Line and column number, tab/space settings and document format options shown in the status bar.
MonoDevelop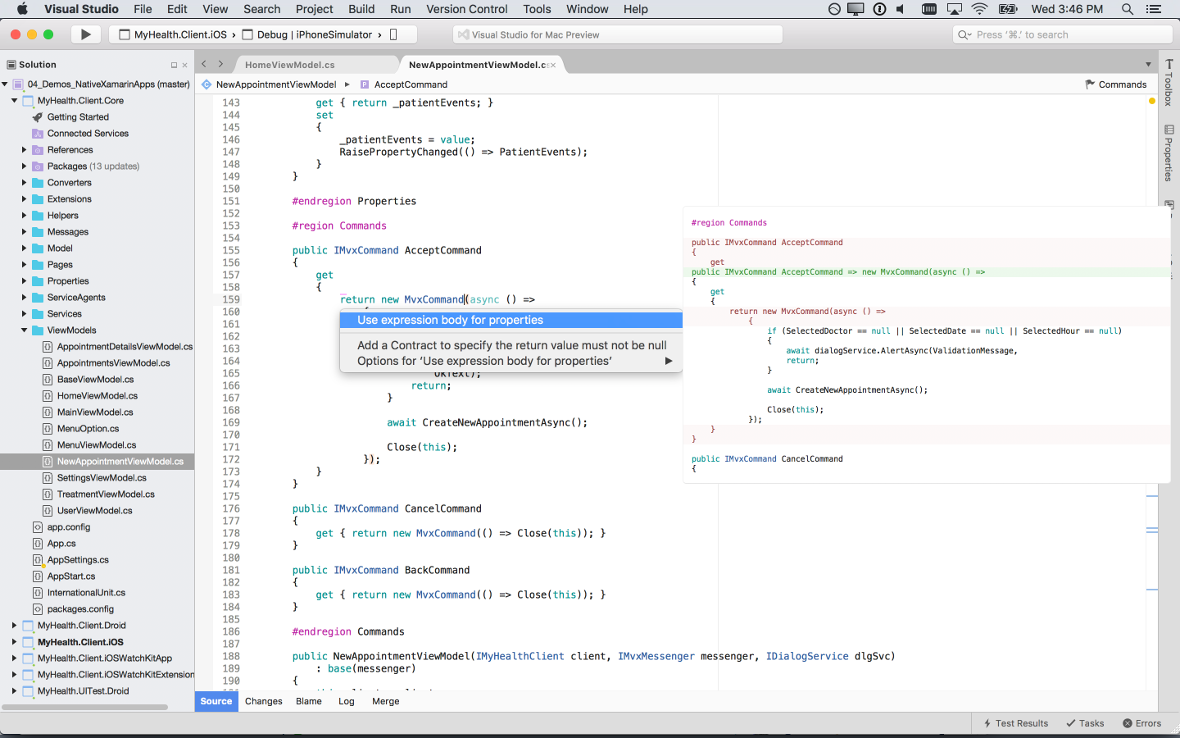 Tabs-centric.

Back/forward buttons navigate through points you've visited in each file.
Down arrow shows a menu of open documents.

Can be split into two columns (View > Editor Layout > 2 Columns).

Requires that each column contains a file - 2 Columns can only be selected when there's more than one file open. Selecting it moves the focused file to the other split.
Each split contains a set of tabs. Closing them closes the split.

Files are opened through the "Solutions" sidebar (allows browsing source files, resources, user interface, and assembly references as a tree), search or file open.
Visual Studio Code
Tab-centric.
Sidebar lists open documents at the top, followed by a project file tree.
Split button is on the right of the tab bar. It creates a new split for the focused document.

Each split contains its own tabs. It can be removed by closing/moving all its tabs.

You can also create a new split by right clicking on a file in the sidebar and selecting "Open to the side". There's a button for this next to search results too.
Line and column number and document settings (tabs, encoding, file type) are displayed in the status bar.
Builder 3.22
Other screenshots:
Initial project - sidebar is shown (hides after opening a document) and there's an empty state indicated on the right

Document actions - allows a document to be split
Behavior:
Back/forward buttons navigate between the edit point in each document.
Each split has a button with a three dot icon. This lists the open documents for that split - each row in the popover has an X that allows closing the document.
X buttons on documents closes them and opens the previously document in that split. A split is closed once all the documents in the split have been closed.
Discussion
Relevant art observations (comparing the five apps that aren't Builder):
All use the idea of open files.

3 (Sublime Text, Visual Studio Code, MonoDevelop) of 5 are tab-centric (XCode and Qt Creator being the exceptions).

Models for splits:

Preconfigured panels - you create splits/layouts and open documents in them (MonoDevelop, Sublime Text).

Split is an action that you perform on a document (Qt Creator, Visual Studio Code).

Line and column number is displayed by 3/5 (Qt Creator, Sublime Text, Visual Studio Code).
Document properties (spaces, encoding, file type) are exposed by Sublime Text and Visual Studio Code. It's unclear what the others do for this.
Back/forward buttons are shown in 4/5, but they do different things:

Qt Creator, XCode - navigates between documents
Sublime Text - scrolls collapsed tabs

MonoDevelop - navigates through points you've visited in and across files
This design evolved through a series of stages:
Some things that were learned from these design concepts:
"Transient" panels (utilise the idea of pinning/unpinning a panel, so that it can be opened temporarily) are a neat idea, but it's difficult to find a good way to allow them to be opened:

Using hovering or pressure over screen edges to activate panels:

Difficult to reconcile with multi-monitor setups
Hard to reconcile with scrollbars on the right (this issue could be removed by only having panels on the left)
It's inefficient with a pointer - the initial movement has to be made without being able to see the final point on the screen that is being aimed for; once the panel has been opened the pointer's direction of movement has to be changed

Using toggle buttons in the headerbar: requires direction changes with the mouse, particularly if panels are on both sides of the window
Keyboard shortcuts - are fine, but probably can't be relied on alone for actions that are primary to the UI

Conceptually the best place to have the back/forward buttons and the open document list is the document header
Arrangement of panels:

Logically, panels that allow opening documents and navigating the project belong on the left. This includes the project tree, TODO and build panels.
Having panels on both the left and the right competes with the ability to view two documents side-by-side (since a bunch of displays aren't big enough for two documents, a panel on the left and one on the right)
Tentative Design
Some of the changes this design would entail:
Moving the TODO and build panels to the left
Changing the symbol tree from a panel into a dropdown
Ditching the document panel, allowing documentation to be navigated from the page instead
Adding open pages to the top of the project tree panel
Reworking the project tree context menus
Changing the document properties into a dialog rather than a popover
See Also
Comments