gedit
gedit is a general-purpose text editor. It has been created in 1998, at the beginnings of GNOME.
The first goal of gedit is to be easy to use, with a simple interface by default. More advanced features are available by enabling plugins.
Screenshot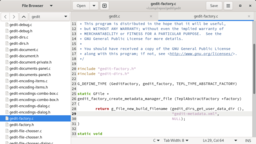 Notable Features
Files are opened in tabs
Full support for internationalized text (UTF-8)

Syntax highlighting for lots of languages (Python, Shell, C, C++, HTML, CSS, JavaScript, XML, Markdown and many others)

Configurable fonts and colors
Print and print preview support
Search and replace with support of regular expressions
A side panel with an integrated file browser
Spell-checking
Word auto-completion
Undo/Redo
Auto indentation
Text wrapping
Line numbers
Right margin
Highlight current line
Highlight matching brackets
Editing files from remote locations
Backup files
A flexible plugin system which can be used to dynamically add new advanced features
Installation
On Linux
You can install the gedit and gedit-plugins packages.
On macOS
macOS packages (a bit outdated)

A Homebrew formula for the latest version of gedit is available: brew install gedit
On Windows
The current way to install gedit on Microsoft Windows is with MSYS2.
Getting in Touch
General communication:
Gedit Technology
The gedit application is based on Gedit Technology.
See Also
Donations
You can fund the gedit project on Liberapay:
---